We shop online for anything from holidays to jackets, nappies to mobile phones and seemingly everything in between. But just how big is online retail in the UK in 2019 and what facts and figures do online business owners like you need to be aware of? We delve into the latest ecommerce statistics.
Ecommerce Statistics in a Nutshell
Want the quick version? Here are what we consider the most important ecommerce statistics relating to the UK in 2019:

48% of all online shoppers start their search for a product on Google

23.6% start their search on Amazon

Almost £1 in ever £5 spent on retail is spent online now

Less than half of web traffic in the UK is now desktop

86% of Brits shop on Amazon
Where are Online Shoppers Starting their Product Searches?
It's a battle between Amazon and Google for the starting point of online purchases. We recently surveyed 500 people in the UK about where they start their hunt for products online. While some reoprts claim Amazon has the beating of Google in the product search stakes in the USA.
Our own statistics, albeit based on a relatively small panel, suggests the single biggest starting point for e-commerce purchases in the UK remains Google, with Amazon in second place.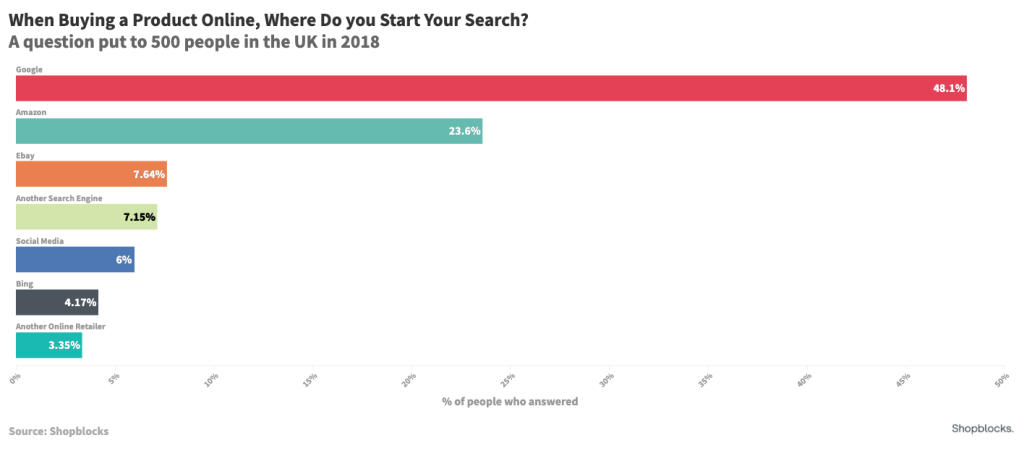 Almost half of online shoppers start their search in Google in the UK while just under a quarter begin their search on Amazon.
Ebay comes in third with 7.64% while social media pulls 6% of online shoppers in as a starting point for shopping.
Internet Sales as a Percentage of Total Retail Sales
Online sales make up a sizable portion of total retail sales in the Great Britain (18.6% as of July 2019, according to the Office of National Statistics).
It's largely a picture of growth since November 2006 with seasonal ups and downs along the way. November of each year typically demonstrates a higher Internet sales contribution to overall retail sales, which we can assume is down to Christmas shopping.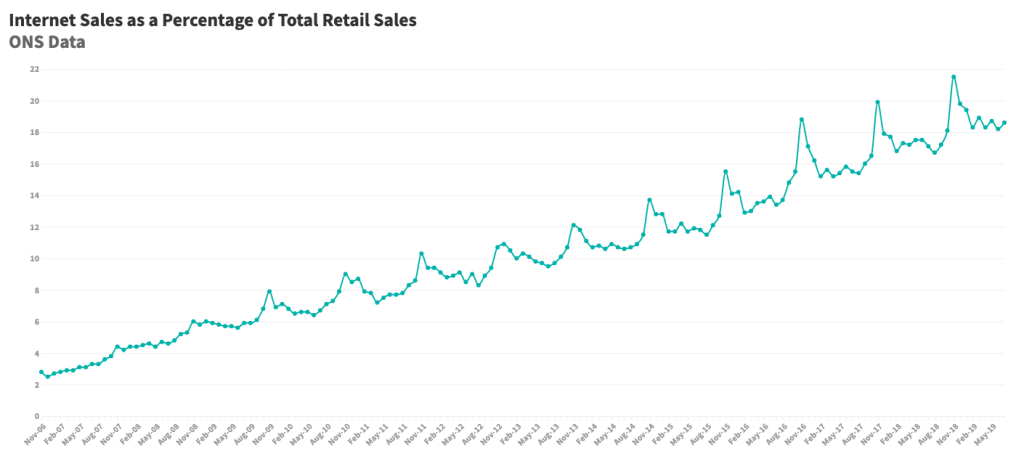 M-Commerce: How Smartphones Have Changed the Game
M-commerce isn't "the next big thing." That's an undersell. It's already amongst the most important considerations for online retailers and businesses of all types.
We shop on the go. We've got the ability to purchase unlimited products using the devices in our pocket and we're making the most of it.
A WorldPay report projects that mobile ecommerce spending will overtake desktop ecommerce spending as soon as 2023.
According to figures from Statcounter, mobile traffic now (as of July 2019) accounts for 41.66% of all UK web traffic, with tablet traffic accounting for a further 10.36%.
This means desktop now makes up less than half of web traffic, highlighting how imperative it is for e-commerce websites to be responsive and quick on all devices.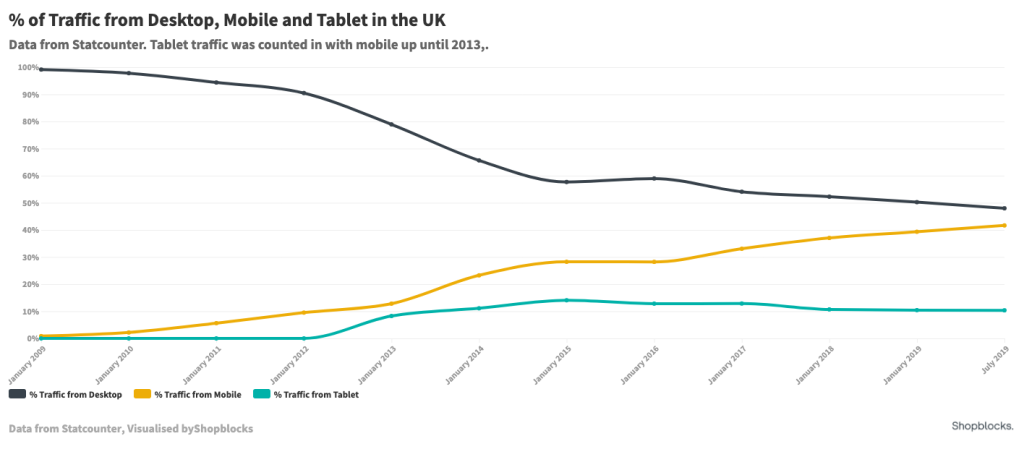 The Amazon Effect
March 2019 research from Mintel highlights the power of Amazon in the UK:

86% of Brits shop on Amazon

26% have Prime accounts

70% of Amazon shoppers shop with the retail giant at least once a month
What does it mean for online retailers as we head into 2020?
There's still a clear growth pattern and while almost £1 in every £5 of retail spend is online (and increasing), there's still a significant amount of spend taking place offline.
It's a reasonable assumption looking at recent history, that the shift will continue towards online spend (particularly on mobile devices) and that highlights a phenomenal opportunity for businesses selling online into 2020 and well beyond.